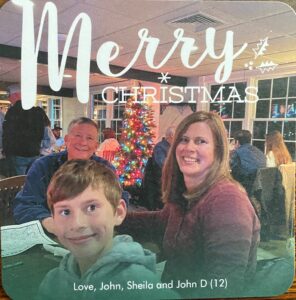 Celebrations! Gatherings! Preparations!
Happy December 2021 Everyone!
Can you believe we are at the end of the year already? We are just days away from Christmas and over a week away from welcoming the new year! I am practicing how to welcome 2022! I say, 2-letter O-2-2, but 2021 was 20-21. I guess it is a very exciting time this 2-letter O-2-2!!! I guess, eventually, I will get to saying 20-22! It does flow better without emphasis on the letter O. Lol!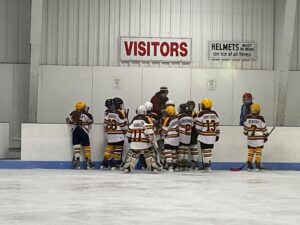 It is a time to celebrate for sure and we sure have! We have been celebrating our son's ice hockey team. It is so wonderful to see how with each passing week they have come together as a team and are so supportive of each other.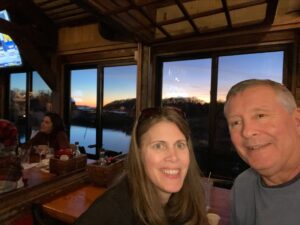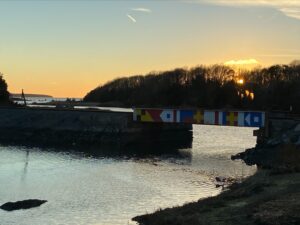 It is a reminder of how important a team is and that John and I create a team atmosphere as we work together. A team as built in our marriage. This team we have fostered we like to share with our clients and add them to our team, as well.  We are here to support each client that needs our support and services. (Pictured is our recent lunch date. We had a day trip to the cape and lunch. It was fabulous.)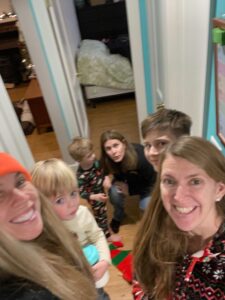 We have been having so much fun gathering with our family and friends…as we gather, let us remember to take precautions in keeping healthy.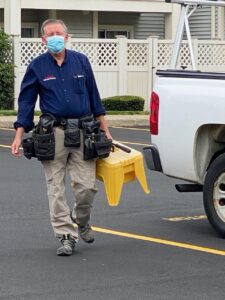 It is a good idea to take precaution in your home, as well. Now is a good time to think of your home maintenance items. Deferred maintenance is a bad habit we can all fall into. A few pennies spent now can save a few dollars later, if repairs are performed when first noticed. So, if you haven't done the small things yet, consider doing them soon!
A few reminders:
Time to check your air filter! Air filters on your air handler should be cleaned or replaced every few months, if not sooner. A dirty air filter can cause your heat or AC system to fail, not work properly, or strain the system creating higher energy bills.
Gutters and Drains: If you have trees around your home, it may be time again to clean your gutters or check them to see if they need cleaning. Check any ground drains too.
Fire Extinguishers: Grease fires and electrical fires require a fire extinguisher. Water should never be used as it can cause an explosion to occur and injure those nearby. Do you have a fire extinguisher far enough away from the cook stove, but close enough to grab in a hurry? Pick one up today at your local building supply store.
Energy Saving Tip: Weatherstripping at doors can become loose, or door openings can expand during seasonal changes, requiring weatherstripping adjustment or replacement.
Also: If you have a large TV, game system, sound system — even when off, they can still leak energy ($). Solution: You can plug them all into an energy saving outlet strip that turns them OFF with a wireless switch on the wall. Make sure the outlet strip you purchase claims to cut all the energy off when in the off position.
Remember, if you are planning any renovations or repairs and need the progress (before, during or after) inspected, feel free to reach out to us.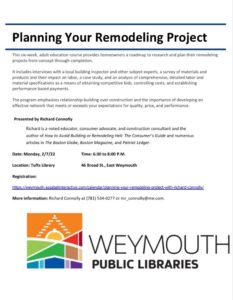 Click image above to enlarge to see details.
As a friendly reminder, we are members of the South Shore Women's Business Network (SSWBN) where men and women collaborate together in support of each other whether in business, in finding business, finding a niche, supporting a charity… We have made many connections within this group and look forward to more. All are welcome to our group sswbn.org
Richard Connolly, a member of SSWBN is running a six week course at the Tufts Library in Weymouth starting Monday, February 7th, 2022 at 6:30 pm to 8 pm. He has invited many to present including Krista Manna a local architect from our network and us. Krista is the owner of KR Architecture & Design out of Abington. Her website is krarch.com and phone number (339) 469-7040. Krista has been busy with many projects including In-law projects and working remotely from home projects to accomodate the way of the world. Registation begins in January. There is sure to be a wealth of information whether you are planning to remodel now or you may get the remodel bug while attending. It is always good to hear and learn from experts especialy when the education is free. We hope you can join and look forward to seeing you there. 
Coming in 2022…watch for our Top 10 Reasons to Have a Home Inspection. We will add one reason each month.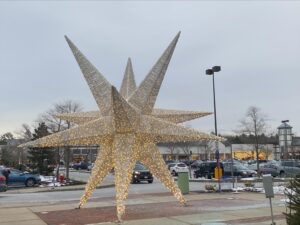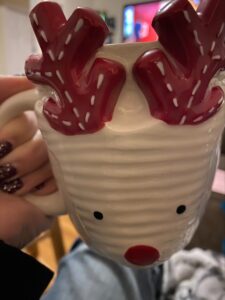 Cheers to the New Year and Wishing you a cup of cheer!
Love from our family to yours. 🙂